Divan Beds, we have a large choice of colours, enabling you to match the decor in your bedroom, matching Headboards in a large choice of designs to further enhance your Bed, we can also have Headboards made in bespoke sizes. Storage options, Drawers can be fitted in your base, we give you a selection of the following a jumbo drawer at the foot end of the Bed, this can be beneficial in the narrower Bedroom  or Continental drawers which can still be opened when you have Bedside Cabinets. You can have Drawers fitted at both sides of the bed, or if access is limited you can have them fitted on one side. Ottomans, we have front lift ottomans or side lift ottomans, giving you the opportunity to select the right one for your room. We also have a Half lift ottoman, which gives you storage at the front end of foot end of the Bed, the space in this style ottoman is equivalent to 6 Divan Drawers, all our Divan Ottomans come with solid floors. Our Divan Beds are available in the following sizes. You will see the recognised British sizes along side each option available. Super King 6′ x 6'6" (180cm x 2m), King 5′ x 6'6" (150cm x 2m), Double 4'6" x 6'3" (135cm x 190cm), Small Double 4′ x 6'3" (120cm x 190cm), Single 3′ x 6'3" (90cm x 190cm), Small Single 2'6" x 6'3" (75cm x 190cm). We also have a full Range of Zip and Link Sets available in both King and Super King sizes.
The Base height on your Divan Set can be changed to suit your personnel requirement, we also can make your Bed either shorter or longer in length this can be done in multiples of 3". For example you could have your Double Bed 6'6", 6'9" or 7′ if required longer, or 6′, 5'9", or 5'6" if shorter. Ideal for the smaller Bedroom.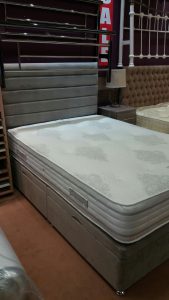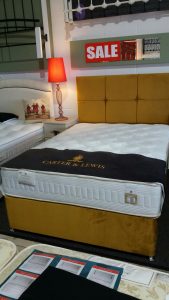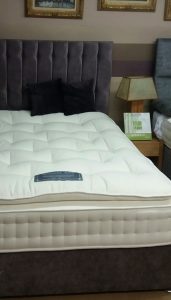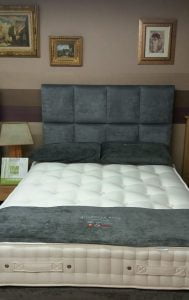 The above options are not readily available at other Outlets, Making Good Night Sleeptight the place to visit in order to fulfil your requirements. We pride ourselves for giving our Customers the freedom of choice throughout the Range.